Manitoba's Employment and Income Assistance (EIA) program provides monthly financial aid and support to eligible lower-income individuals and families in Manitoba.
In October 2022, EIA payments were increased slightly to account for rising inflation and costs throughout the province.
Manitoba EIA payments are typically issued on the third-to-last business day of each month to provide a benefit payment for the following month.
Below, I'll list all of the upcoming Manitoba EIA payment dates, so you can mark your calendars. Then, I'll go over a few other basics, including EIA payment amounts, applications, and supplements.
Manitoba EIA Payment Dates For 2023
The government of Manitoba hasn't released all of its 2023 Manitoba EIA payment dates yet. However, it's easy to extrapolate the payment dates by following the trend that payments have followed for the past few years.
If the Social Services Department makes any changes to its 2023 EIA payment schedule, I'll be sure to update this list.
Here are the Manitoba EIA payment dates for 2023:
Friday, January 7th (2023)
Friday, February 24th (2023)
Wednesday, March 29th (2023)
Wednesday, April 26th (2023)
Monday, May 29th (2023)
Wednesday, June 28th (2023)
Wednesday, July 26th (2023)
Tuesday, August 29th (2023)
Wednesday, September 27th (2023)
Friday, October 27th (2023)
Tuesday, November 28th (2023)
Wednesday, December 27th (2023)
How Is Manitoba EIA Paid?
Manitoba EIA payments are issued via direct deposit. If you have not set up an online account with the government of Manitoba, then you will receive a paper cheque sent in the mail to your primary address.
Of these two methods, I far recommend direct deposit. It's easy to set up direct deposit with your chequing account, and it shouldn't take more than a few minutes.
With direct deposit, you'll always get your money on time, and you won't have to worry about your letter getting lost in the mail or being delayed due to weather.
When Will I Receive My Manitoba EIA Payments?
If you're registered for Manitoba EIA direct deposit, then you should receive your EIA payment within 24 hours of the issue date. If you're not registered for direct deposit, and you're receiving paper cheques instead, then you may have to wait a few more days.
For example, if your cheque is mailed out on a Friday, you may not receive it until the next week. EIA cheques are mailed using standard post (not expedited), so expect to wait at least three days for your EIA payment to arrive in the mail.
What Is Manitoba EIA?
Manitoba's form of social welfare is the Employment and Income Assistance program. EIA provides benefits and financial support to qualifying lower-income individuals and families.
In addition to the basic amount you're entitled to receive (based on your living situation and income), you may also apply for additional supplements to assist with specific needs.
Manitoba EIA is broken down into three separate categories:
General Assistance
Single Parents
Persons With Disabilities
The Social Services Department doesn't have a specified income cap to receive EIA, as situations differ from one case to another.
However, the one thing that the department is clear on is that EIA applicants must show that the number of their monthly expenses is greater than both their income and the value of their assets.
Rent Assist + Manitoba EIA: Two Payments In One
In addition to Manitoba's EIA social welfare program, the Social Services Department also offers a program called Rent Assist. This is designed to help cover rental and living expenses, such as apartment rent and utilities.
All EIA recipients who have housing costs will automatically receive some funds through the Rent Assist program. EIA recipients who do not have living expenses will not receive Rent Assist payments.
If you are entitled to receive Rent Assist payments, you can expect to receive both your EIA and your Rent Assist payments on the same date.
Manitoba residents aren't always required to be enrolled in EIA to receive Rent Assist payments. The Social Services Department does allow some non-EIA applicants to apply for the program, providing that they meet certain qualifications, such as:
They must rent an unsubsidized housing unit
They must not make more than $24,640 per year (single)
They must not make more than $228,040 per year (married)
They must be a full-time resident of Manitoba and a Canadian citizen or legal resident
Manitoba EIA Categories & Benefits (How Much You May Receive)
The Manitoba EIA program is divided into three separate categories, each designed to provide financial aid to various applicants. Below, I'll give you a quick breakdown of each benefit, outline the necessary qualifications and show you what you can expect to receive.
The amount of aid you'll receive depends on factors such as:
The ratio of your bills to your income
Whether or not you have children living with you
Your housing situation
Your total income
Your age
Your employment status
Let's take a look closer look to see what benefits you may be eligible for.
Manitoba General Assistance EIA
The majority of EIA applicants fall under the General Assistance EIA category. These beneficiaries may be single or married and must demonstrate financial need. EIA is primarily issued to individuals who are unable to find work.
If the applicant is physically and mentally capable of working, then EIA can provide both employment aid and support until the individual becomes employed again.
Even after the individual finds employment, they still may be entitled to receive partial EIA benefits based on the amount of income that they're earning from their job.
Here's how much you can expect to receive if you're approved for General Assistance EIA: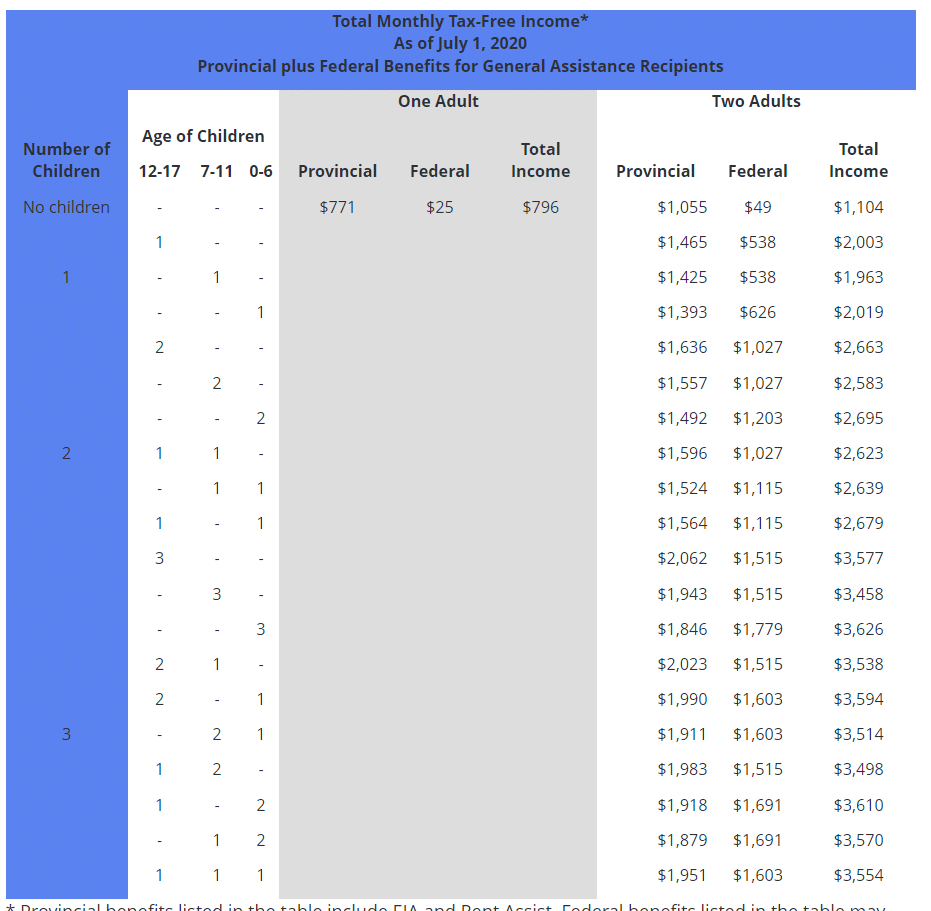 Qualifications For General Assistance EIA
To qualify for General Assistance EIA, applicants must:
Be at least 18 years old
Be under 65 years old
A full-time resident of Manitoba
Indicate financial need
To indicate financial need, you must not only reference your income and outgoing expenses, but you must also outline your assets. For example, you probably won't receive assistance if you own a $1 million home or drive a high-end car (no matter how unemployed you may be).
Manitoba Single Parents EIA
The Single Parents EIA benefit aims to provide vital financial support to single parents who are facing financial difficulty, find themselves unemployed, and are unable to keep up with their expenses.
This benefit is issued to parents and parents-to-be who are at least seven months pregnant. Here's how much you can expect to earn, according to the chart provided by the Manitoba Social Services Department: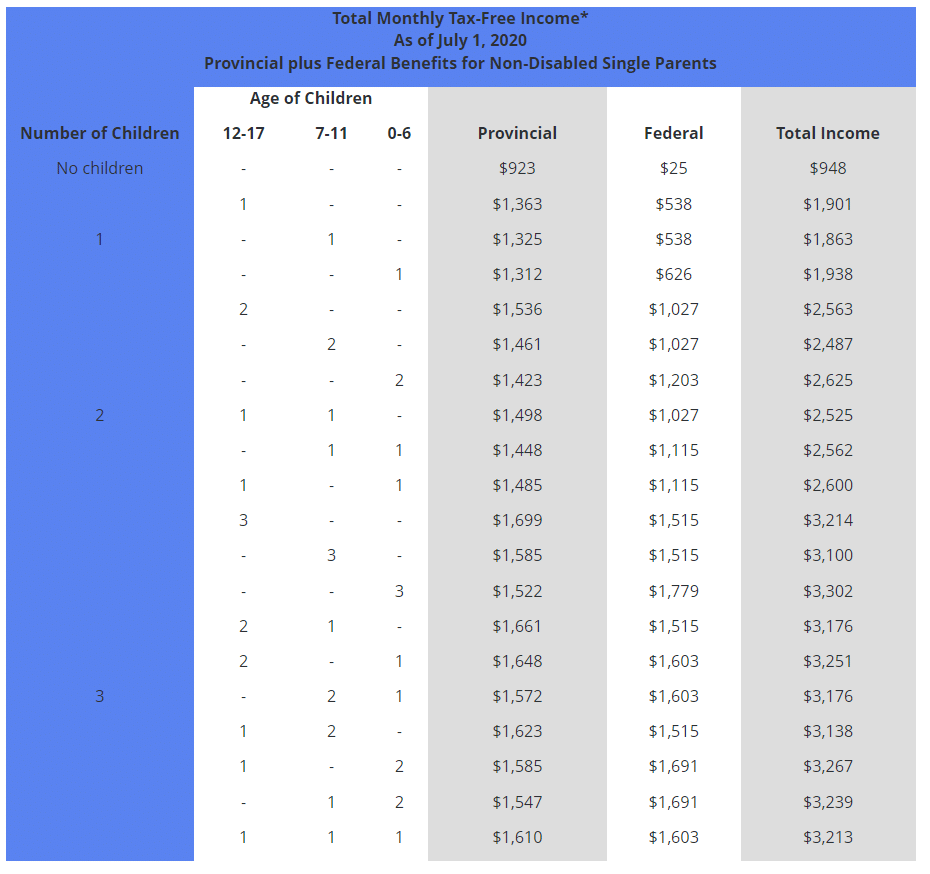 Qualifications For Single Parents EIA
To qualify for Single Parents EIA, applicants must:
Be at least 18 years old
Have custody of a dependent child or be in their seventh month of pregnancy (third term)
Must be unmarried, divorced, separated, or have a spouse in prison
Indicate financial need based on income, assets, and expenses
Manitoba Persons With Disabilities EIA
Manitoba's EIA program also provides welfare support to individuals with a physical or mental disability that prevents them from working or finding steady employment.
The benefit amount is similar to the amount that recipients in other EIA programs will receive and depends on your living situation, the severity of your disability, and your expenses.
Qualifications For Persons With Disabilities EIA
To qualify for Persons With Disabilities EIA, applicants must:
Live in Manitoba
Have a disability or severe injury (mental or physical) that's expected to last for at least 90 days and affects their ability to pay bills
Be at least 18 years old
Must indicate financial need
Here's the chart of how much you can expect to receive, courtesy of the government of Manitoba's Social Services Department:
Manitoba EIA Supplements
In addition to the standard EIA payments you'll receive every month, you may also receive supplemental payments to cover specific expenses, such as:
Addiction treatment
Ambulance costs
Hearing aid devices
Optical service
Prosthetics and walking devices
Winter boots
Cell phone
Appliance repairs
Home repairs
Laundry costs
… and more
You can view the full list of Manitoba EIA benefit supplements here.
Applying for Manitoba EIA
If you are considering applying for EIA in Manitoba, here's a step-by-step guide on how to proceed:
Determine Your Eligibility: Before applying, determine if you're eligible for assistance. Eligibility is typically based on:

Your financial resources: how much money you have in assets and income.
Your personal situation: such as if you are unable to work due to disability, illness, or caregiving responsibilities.

Collect Necessary Documentation: You'll need various documents to prove your eligibility, such as:

Identification (e.g., driver's license, health card).
Information about your household (e.g., rent receipts, utility bills).
Proof of income and assets.
Other relevant information based on your personal situation.

Contact EIA: You can start the application process by:

Phoning your local EIA office.
Visiting an EIA office in person.

During the initial contact, you will be asked some questions to determine your basic eligibility. If you appear to be eligible, you will be given an appointment to meet with an EIA worker.
Attend the Intake Interview: At the interview:

Bring all the necessary documents.
Discuss your circumstances with the EIA worker.
Ask any questions you have about the program and process.

Wait for the Decision: After the intake interview, the EIA staff will review your application and documents to make a decision on your eligibility. They will then notify you of their decision. If you're approved, they'll let you know the amount of benefits you'll receive and when you'll start receiving them.
Ongoing Reporting: If approved, you'll need to regularly report any changes in your circumstances to EIA. This can include changes in income, family size, or living situation. Regular reporting ensures you receive the right amount of benefits.
Appealing a Decision: If you disagree with a decision made by the EIA, you have the right to appeal. The details on how to appeal will usually be provided with the decision letter.
Maintain Communication: Always keep the lines of communication open with your EIA worker. If you're unsure about something or face changes in your situation, reach out to them for guidance.
FAQs About Manitoba EIA
To wrap up, here are a few quick answers to commonly asked questions regarding Manitoba EIA payments.
Can You Work On EIA In Manitoba?
Yes, you can work while receiving EIA. However, once you're employed, your EIA payments may be reduced to reflect the change in your financial need.
Will My EIA Payment Stay The Same?
Whenever your living situation or employment status changes, you're expected to notify the Social Services Department. Changes to either of these factors could not only affect your eligibility to continue receiving EIA but may also change the amount of the payment you're receiving.
How Long Can I Stay On EIA In Manitoba?
At this time, Manitoba residents are allowed to remain on welfare and receive EIA benefits for up to two years.
To receive it for this length of time, you must regularly check in with your caseworker to verify that you haven't found employment. You may also be required to complete a vocational training program designed to help you find employment.
Conclusion – What Day Is Manitoba EIA Paid?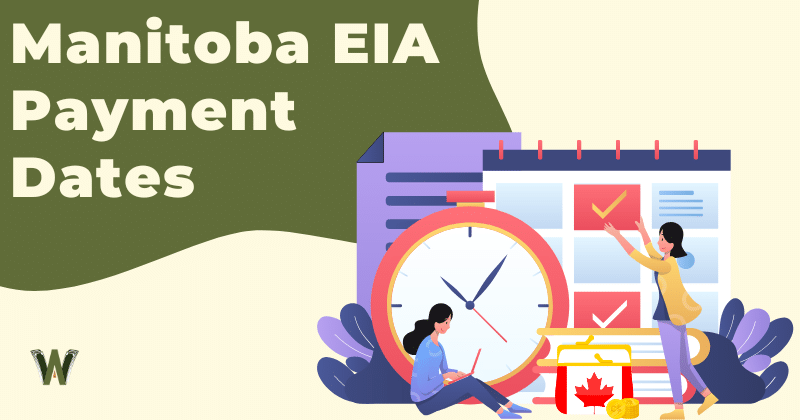 Manitoba EIA payments are typically issued on the third-to-last business day of each month, which is usually in the middle of the week. If you're enrolled in direct deposit, then you should receive your money by the end of the day.
Are you tired of struggling to make ends meet? Are you looking to earn some extra money and start living life on your own terms? If so, keep on reading to see my list of the best sites to find remote jobs on next!